Song

Nest
Last modified January 5, 2004.

To find out more about me, check out...



SongWorks -- A select listing of my musical compositions, including audio samples (look for the "

").



SongPoems -- Poems and Texts I have written and/or used in my music compositions.



SongLinks -- Links to many neat places (including Music Sources).



Threshold -- Elidia's Threshold RPG page.



The Restaurant at the End of the Web!!! -- My husband BEAMRIDER's home page.



Meet Katie! -- My daughter's page.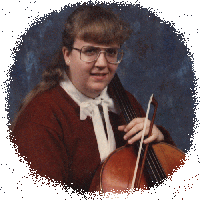 Name:
Elizabeth Ann Davis -- To see my full Vitæ, Click here
E-Mail:
elidavis AT beamrider DOT com
Also Known As:
Elizabeth Ann Skola, Song, Songbird, Marsaya, Elidia
Born:
05/17/65 at Womack Army Hospital, Fort Bragg, North Carolina, USA
Current Occupations:
Katie's Mother
Freelance Musician
Homemaker

Married to:
Jeffery Xavier "BEAMRIDER" Davis



My Alicorn

| | |
| --- | --- |
| This is my pet alicorn, Amethyst. | Click on the certificate above or the following link to go to Lady Blue's Demesnes, the artist's home page. |



This page is Netscape Enhanced.


This page can also be displayed correctly with the Microsoft Internet Explorer.





Copyright © 2004-1996 Elizabeth Skola Davis.
Copyright © 2004-1996 BEAMRIDER! Telecommunications, Inc.
All Rights Reserved.

This page has been accessed
times since November 12th, 1998.